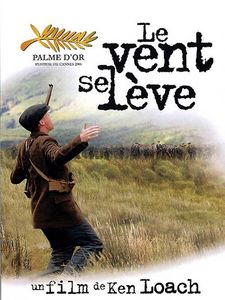 Le vent se lève de Ken Loach
Titre original : The Wind that Shakes the Barley
Palme d'or au Festival de Cannes en 2006
Nous sommes en Irlande en 1920 alors que le pays est en train de se soulever contre l'empire britannique pour acquerir son indépendance (La guerre d'indépendance a lieu entre 1919 et 1921). C'est l'histoire d'un groupe de jeunes nationnalistes qui entament des actions contre les militaires anglais qui essaient de faire régner l'ordre au nom de l'empire à coup de meurtres et de tortures arbitraires. Damien et Teddy O'Donovan, deux jeunes frères, sont unis dans cette lutte. Mais en 1921 l'Indépendance est proclamée, exception faite de l'Uster, partie la plus riche de l'île. S'en suivra une guerre civile qui va durer... et qui va détruire et déchirer jusqu'aux membres d'une même famille au nom d'un idéal.
Voici l'un des films qui atteint le haut de ma liste dans mon appréciation de Ken Loach, avec My name is Joe (number one of the numbers one!) et Ladybird. On retrouve tout ce qui fait un bon Ken Loach dans ce film : Tout d'abord des acteurs à la pointe de la perfection, on se croit plus dans un reportage que dans un film tellement on a pas l'impression qu'ils jouent, mais qu'ils vivent le film. Pour cela Ken Loach est toujours très fort.
Ensuite, encore une fois, c'est un film qui fait réfléchir sur des problèmes qui nous semblent parfois un peu flous. Malrgé mon intérêt pour l'Irlande, j'ai dû me plonger dans Wikipédia pour avoir un peu toutes les données du problème. Car bien sûr, Ken Loach ne se complait pas dans les clichés ou la simplification, il expose les faits et ne cherche pas à influencer le spectacteur en lui donnant son opinion toute faite sur la situation, chacun découvre et en tire ses conclusions.
Très beau film très émouvant, et les décors sont grandioses !
Pour finir, je vous copie la chanson irlandaise qui donne son titre au film, emblême de la résistance contre les anglais :
I sat within the valley green, I sat me with my true love
Je me suis assis dans la vallée verte, je me suis assis avec mon véritable amour
My sad heart strove the two between, the old love and the new love
Mon coeur triste est tiraillé entre les deux, l'ancien amour et le nouvel amour
The old for her, the new that made me think on Ireland dearly
L'ancien pour elle, le nouveau qui me fait penser très cher à l'Irlande
While soft the wind blew down the glen and shook the golden barley
Alors que doucement le vent soufflait dans la vallée et secouait l'orge doré
'Twas hard the woeful words to frame to break the ties that bound us
Il fut difficile de formuler les mots douloureux pour briser les liens qui nous liaient
But harder still to bear the shame of foreign chains around us
Mais encore plus difficile de supporter encore la honte des chaînes étrangères sur nous
And so I said, "The mountain glen I'll seek at morning early
Et donc j'ai dit, "La vallée montagneuse je chercherais tôt le matin
And join the bold united men," while soft winds shake the barley
Et rejoindrais les hardis hommes unis", alors que des vents doux secouent l'orge
While sad I kissed away her tears, my fond arms round her flicking
Alors que triste j'embrassais ses larmes, mes bras affectueux autour d'elle tremblotant
The foeman's shot burst on our ears from out the wildwood ringing
Des rafales de tir de l'ennemi sifflant à nos oreilles depuis les bois
A bullet pierced my true love's side in life's young spring so early
Une balle transperça mon véritable amour dans le jeune printemps de sa vie, si tôt
And on my breast in blood she died while soft winds shook the barley
Et sur ma poitrine ensanglantée elle mourut alors que des vents doux secouaient l'orge
I bore her to some mountain stream, and many's the summer blossom
Je l'ai porté à un ruisseau de montagne, où se répandent les fleurs d'été
I placed with branches soft and green about her gore-stained bosom
J'ai placé des branches douces et vertes sur sa poitrine tachée de sang
I wept and kissed her clay-cold corpse then rushed o'er vale and valley
J'ai pleuré et embrassé son corps froid comme l'argile puis rué par monts et par vaux
My vengeance on the foe to wreak while soft wind shook the barley
Ma vengeance contre l'ennemi à détruire alors que des vents doux secouaient l'orge
But blood for blood without remorse I've taken at Oulart Hollow
Mais le sang pour le sang sans remords j'ai pris à Oulart Hollow
And laid my true love's clay cold corpse where I full soon may follow
Et couché le corps froid comme l'argile de mon véritable amour que je pourrais suivre très prochainement
As round her grave I wander drear, noon, night and morning early
Autour de sa tombe j'erre morne, à midi, la nuit et tôt le matin

With breaking heart when e'er I hear the wind that shakes the barley.

Cryssilda

Avec le coeur brisé dès que j'entends le vent qui secoue l'orge.