Je me baladais tranquillement en sifflotant sur amazon ce soir quand j'ai failli faire une syncope devant tant d'inédits de Wilkie Collins ! Mais soyez rassurés, j'ai toujours une fiole de sels volatiles à portée de main.
N'empêche, je savais déjà qu'il y avait embrouille entre Wilkie et Dickens... mais pas que que Lewis Carroll avait subtilisé une histoire à Wilkie ! Voyez donc :
Sinon, The Queen of Hearts est effectivement le titre d'un roman de Wilkie Collins qui n'a RIEN à voir avec Alice.
J'apprends aussi avec stupeur que mon Wilkie a écrit un roman patriotique américain ! (en fait, ça parle d'un mariage bien compliqué!)
Bon bah on a maintenant un Wilkie sépcialiste des iroquois. Oui, il est très polyvalent notre Wilkie d'amour. Et surtout, on le sait, un véritable aventurier sur petites pates !
Sans oublié la suite de The Black Robe, toujours au Québec, qui parle d'un curé.
(Bon y'a bien un curé dans The Black Robe... mais il n'a pas quitté l'Angleterre si je ne m'abuse!)
La dame en blanc a pris quelques rides et s'est propulsée au 21ème siècle. Oui, les voyages dans le temps, ça fatigue!
Cette couverture a le mérite de m'avoir plongée dans l'histoire fascinante du sèche-cheveux ! (Bah oui, un roman domestique quoi... :-) ) Enfin au départ c'est juste une vieille qui raconte des histoires le soir au coin du feu, mais on va quand même pas chipoter non plus ! Elle a tout de même bien le droit de faire un CAP coiffure dans la journée !)
Et pis cette dernière, une petite histoire de châtons bien mignonnes !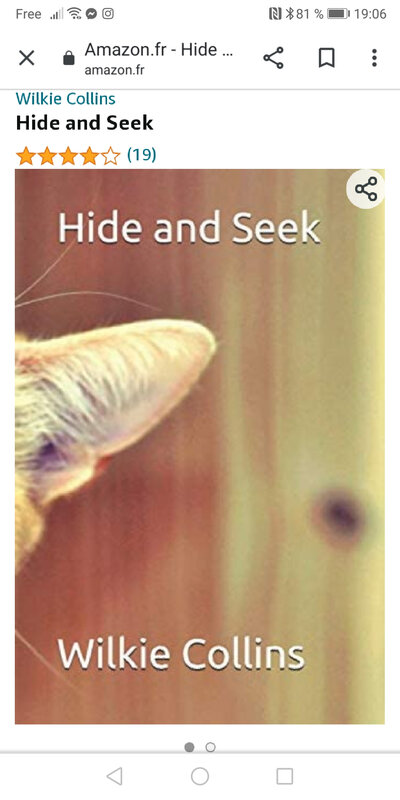 Pour résumer, avec Wilkie, il y en a pour tous les goûts ! :-)
Billet qui entre parfaitement dans le thème des Victoriens de février pour A year in England que j'organise durant toute cette année avec mes copines Lou et Titine.
(Sinon, en vrai, je suis en train de lire un délicieux Wilkie et je vous en parle bientôt!)