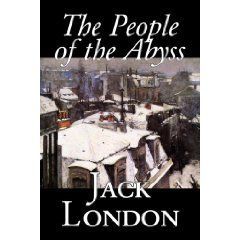 The people of the Abyss (Le peuple d'en bas) de Jack London
Editions Aegipan Press, 201 pages

Jack London décide en 1902 de se plonger au coeur de la misère Londonienne Victorienne. Il décide de se fondre dans la population pauvre de l'East End de Londres, parmi les vagabonds et les plus miséreux. Il partagera avec eux des nuits dans des centres d'accueil, il ira avec eux quémander à la soupe populaire, essaiera de trouver du travail, passera des nuits dans la rue...

J'attendais beaucoup de ce livre, j'avais grande impatience de le lire.. mais quelle déception...
Je ne me suis absolument pas sentie touchée par le récit de Jack London... ce qui est quand même incroyable vu ce qu'il essaie de rendre compte, en sachant que ce genre de thème me touche normalement toujours beaucoup...
Je n'ai pas aimé la façon dont il prenait les gens de haut... D'accord sa démarche était bonne au départ, je suis persuadée qu'il n'y avait aucune mauvaise intention de sa part... Mais j'ai carrément du mal lorsque l'on parle d'êtres humains comme d'animaux, quand on juge que les gens les plus modestes ne devraient pas avoir le droit de se marier ni d'avoir d'enfants...
Ce qui est terrible c'est que je me rends bien compte de la tristesse et de l'injustice de tout ce qu'il raconte dans son livre... mais il reste trop dans les lieux communs, ne va pas au bout des choses, ne nous laisse pas le temps de nous attacher aux gens qu'il nous présente car il ne les rend pas humain. On a juste l'impression de lire un rapport journalistique, sans aucun élan de sentiments...
C'est vraiment dommage... Dans le même style, je conseillerai mille fois Les dépossédés de Robert McLiam Wilson, sur le même thème, mais sur les années 90. Ce livre m'avait totalement retournée, car justement l'auteur ne se contente pas d'observer, il plonge dans la vie des gens, partagent leur vie jusqu'à parfois devoir s'en éloigner soudain à cause d'un trop plein d'émotions...
Lire également l'avis de Lou...

Cryssilda